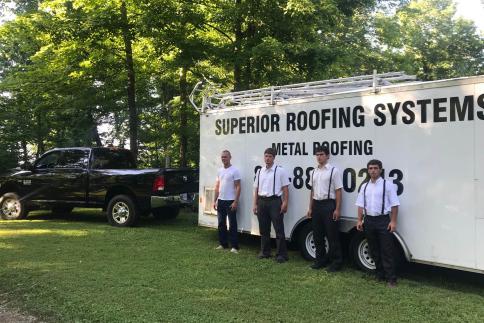 Who Is Superior Roofing Systems?
In 2009, current owner Atlee Peachey founded Superior Roofing Systems with this vision: 
To provide the best service in the roofing industry.
To provide quality craftsmanship with skilled professionals.
The roofing industry is notorious for fly-by-night contractors and shoddy work. Our goal is to provide a refreshingly different experience for you, and this has resulted in our reputation for great workmanship and great service.
May we share a little secret? You receive hidden benefits when you choose Superior Roofing Systems: 
Because our team members are paid a percentage of the total project cost, you benefit from their sense of ownership.
You also benefit because our team members are intent on getting the job completed and won't waste time or loiter on your property. 
Since team members don't get paid extra to come back and fix mistakes, you can imagine the extreme care and attention they pay to details. Another benefit!
We know your home is a large investment. We are here to help you protect it with a beautiful, durable, and maintenance-free metal roof. Contact us today to learn more and get started. 
"This company is by far one of the most professional and trustworthy companies I have had the pleasure of dealing with! My roof was installed in only a few hours. The cost was actually a little less than I expected and Atlee went above and beyond with customer care. I could not be happier with my choice of Superior Roofing Systems!"
Rhonda G.